UW Surplus store and auctions
UW Surplus is located across from University Village on 25th Ave NE within the Plant Services Building (PSB). The entrance is located within the loading dock bays along the east side of PSB. At the end of the northernmost loading dock bay, a pedestrian ramp and signage lead you to the entrance. Learn more about getting here and parking.
Our address:
Plant Services Building
4515 25th Ave NE
Seattle, WA 98105-4280
Hours of operation
UW Surplus store
General public
The Public Store has reopened for in-person shopping! Our new store hours are 10 a.m. to 4 p.m. on Tuesdays.
Items are also available through purchase or auction via the following sites:
Priority groups
UW departments, nonprofit organizations and government agencies may shop by appointment only during the following times:
Monday, 8:30 a.m. to 3:30 p.m.
Thursday, 8:30 a.m. to 3:30 p.m.
Friday, 8:30 a.m to 3:30 p.m.
Administrative office
Hours: M-F, 7:30 a.m. to 4 p.m.
Surplus receiving
Hours: Monday, Wednesday - Friday, 8:30 a.m. to 3:30 p.m.
Accommodations
Accommodation requests related to a disability should be made to UW Surplus, 206-685-1573, surplus@uw.edu.
Transit
The nearest bus stops to UW Surplus are:
25th Ave NE & NE 47th St northbound (route 372)
25th Ave NE & 47th St southbound (route 372)
The University of Washington Link light rail station is about a mile away. From there, you may take the Burke-Gilman Trail directly to the UW Surplus store.
Biking and walking
The Burke-Gilman Trail runs directly behind the Plant Services Building. Bicycle parking racks are located in the parking strip along 25th Ave NE, directly in front of the UW Surplus store.
Driving
The University of Washington is a big place. Before setting out, we encourage you to find your destination on UW Campus Maps and plan your route. If you are planning to park on campus, please allow at least 30 minutes to purchase a parking permit, park your car and walk to UW Surplus. In many cases, it may be easier for you to arrive by bus or light rail.
Directions to UW Surplus
From I-5 South
Take Exit 172 toward NE 80th Street.
Turn left at NE 80th Street.
Take the first right onto Banner Way NE.
Continue onto NE 75th Street.
Turn right at 25th Ave NE.
From I-5 North
Take Exit 168B to merge onto WA-520E toward Bellevue/ Kirkland.
Take the Montlake Blvd Exit toward the University of Washington.
Turn left at Montlake Blvd East.
Take the slight left at 25th Ave NE.
From 520 West
Take the Montlake Blvd Exit.
Merge onto Montlake Blvd East.
Veer left onto 25th Ave NE.
General tips
NE 45th Street runs above 25th Ave NE as a viaduct. To access 25th Ave NE from it, you will need to loop around to the right.
Montlake Blvd northbound turns into 25th Ave NE after the stadium parking lots.
Plan how you're going to park before you get here.
Always take it slow when driving on campus. Most roads have a 20 mph speed limit and are shared with bicyclists and buses, as well as the thousands of students walking across them daily.
The easiest place to park is the N25 lot to the south, with access from Pend Oreille Road. Pay for parking at the pay station or via PayByPhone. See the UW Transportation website for rates and more information on campus self-serve parking.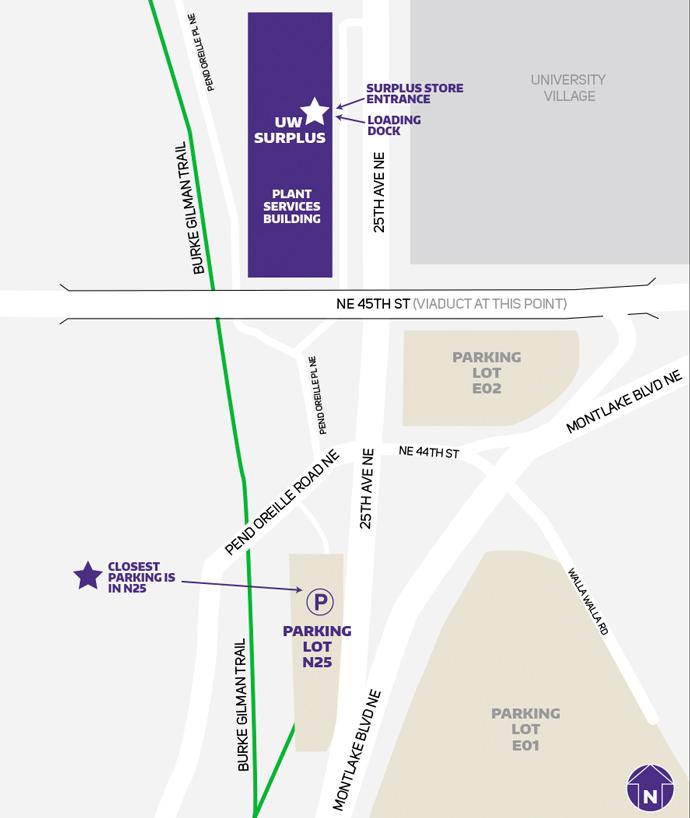 Neighborhood parking
Limited side street parking is available on an as-you-can-find-it basis. University Village is private property. Parking in University Village parking lots are for customer use while shopping only. Parking there for any other reason (including coming to UW Surplus) carries a risk of ticketing and/or towing.
Loading and unloading
Load/unload parking spaces are available in designated areas directly in front of the UW Surplus store. These spaces may also be used to pick up items previously purchased. You do not need a UW parking permit to park in a loading zone or in a load/unload parking space, but please note that these spaces are limited to 30 minutes. Citations will be issued to vehicles parked over these limits.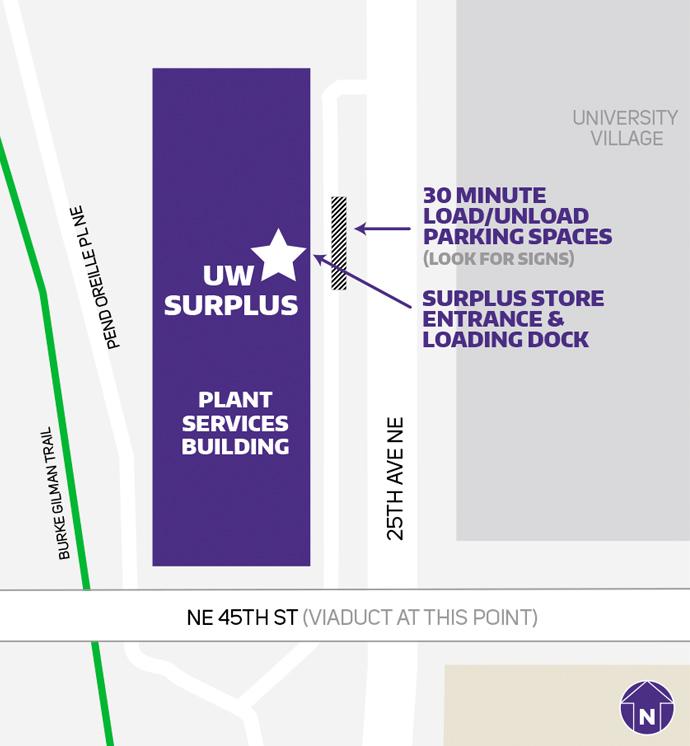 Have a general question?
UW Surplus
206-685-1573
surplus@uw.edu
UW Moving
206-685-2797
moving@uw.edu
Need to contact a specific person or department?
Moving & Surplus
Email
Phone
Jeanel Cassidy
Program Operations Manager
jeanel@uw.edu
206-724-2156
Moving Services
Email
Phone
Mike Morris
Program Support Supervisor II, Operations
condor@uw.edu
206-351-8596
Eric Siu
Truck Driver Lead
esiu@uw.edu
206-384-1663
Vacant
Program Coordinator, Admin & Customer Support
Surplus Property
Email
Phone
Becky Ryser
Program Support Supervisor II, Retail Store & Inventory
rayser@uw.edu
206-221-3421
John Finelli
Program Coordinator, Retail Store & Inventory
finelli@uw.edu
206-685-0207
Neil MacLeod
Program Support Supervisor II, Warehouse Operations & Auctions
nmacleod@uw.edu
206-375-6799
Eric Wahl
Program Coordinator, Customer Support & Auctions
ericwahl@uw.edu
206-685-1573
Adam Fox
Program Coordinator, Receiving & Auctions
fox5@uw.edu
206-384-3582
Cedar Smith
Program Support Supervisor II, Electronics Processing & Sales
cedarad@uw.edu
206-724-1715
Miguel Marez-Quinones
Program Coordinator, Electronics Processing & Sales
marezm2@uw.edu
206-390-9519