Meet the metal tradesmen of Shop 16
Jacob Emmons profiles colleagues in guest post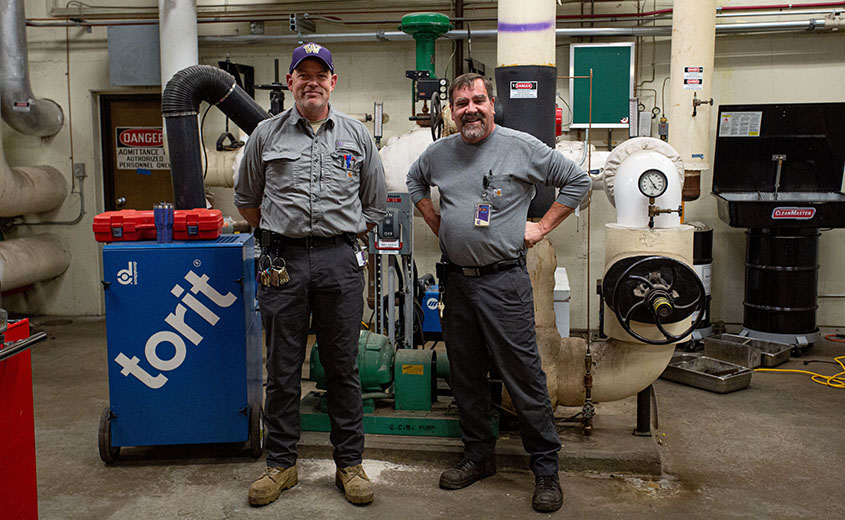 My name is Jacob Emmons and I am a metal tradesman at the UW. I'm part of a team in UW Facilities' Shop 16 that maintains and repairs equipment such as fans, pumps, water heaters and kitchen equipment. Most of our repairs are performed in the field or in our workshop located in the basement of Gould Hall.
As part of a capstone project for UWF's "Stepping Stones" leadership program, I decided to interview and write profiles about a few of the neat people I get to work with every day. By doing this, I imagined that people outside of the UW Facilities world would be able to have a more detailed glimpse of some of the personnel they might run into every day.
Meet a few of the people who keep the UW running:
Steve Zsitvay
When the opportunity arises, I simply refer to him as the "brains of the operation." 
I use the term to describe him because he is the team lead. He organizes our work orders, orders our parts and directs our preventative maintenance schedule. But the description rings true on so many levels, because he is full of interesting tidbits and side notes. He is a human encyclopedia whose expertise I was fortunate enough to have when he accompanied me in my first months at the UW. 
En route to resolving work orders, he would point out the architecture of buildings, perhaps explaining their "brutalistic" properties as well as the mechanical contents hidden inside. Honestly, it was a lot to take in — not just the information he was expelling, but how much he retained.
"Well, it helps to be a nerd," he said. "I like old weird things, I like stories. Whenever I see something weird, I know there is an interesting story."
A machinist by trade, Zsitvay first started working at the UW in 1994 as an instrument maker for a lab in the Physics department. He was maintaining a shop and providing instruction to graduate students in the Nuclear Physics Laboratory.
"I didn't learn a lot about physics, but I enjoyed being on the periphery of the work," he said. 
He had originally intended to pursue engineering and science "but once I realized how much time would be spent wielding abstractions and textbooks after a few misspent hours as an undergraduate, I gravitated more towards trade school," he said. 
Zsitvay completed a four-year apprenticeship as a machinist while simultaneously completing a four-year degree in 1991 at Seattle University.
With a combined 20+ years of working for the UW, he describes what it's like to watch a university evolve from the perspective of a tradesperson.
"I've seen a lot of change in this organization," he said. "It's kind of like you're roaming the campus as a tourist with these immortal children. You get older and they don't — it's an unusual experience."
It's insightful depictions such as these that make the "Zsitvay experience" so unique. He has a wide array of knowledge not only of the trades, but of the UW as a whole. 
Khris Adams
Khris Adams, our trusty sheet metal mechanic, is a soft-spoken man of few words. When you need him, he shows up, performs the work, offers a fist bump and then leaves. It is always fun collaborating with him on projects. His skill and expertise in manipulating metal and repairing associated hardware makes him a valuable asset to the crew.   
"I love this trade, I do," said Adams, who has been in the sheet metal trade since age 18, "from the first time I could see what you could do with a blank, flat piece of metal." 
He grew up in the same town in which he discovered his trade: Houma, Louisiana.  After that, he moved to Baton Rouge and went to trade school. Four years later, he was a journeyman.
It's fair to say that sheet metal has taken him places, including Mississippi, Iowa, Alabama, Las Vegas and Seattle. The biggest job he's been on was an oil rig located in the Gulf of Mexico, where his team had to replace the whole ducting system.
"When you're hanging off the side of a rig — safety-geared up of course — it can be both scary and fun. … In the day time it was a very beautiful thing to look at."
He has seen other marvels as well. 
"I've actually seen a cruise ship built from the engine room all the way to the captain's deck," he recollected. "And then the day of launch, we saw it sail away. … It was one of the coolest things I've ever seen."
When Adams isn't at work repairing gutters, windows and bathroom stalls, he likes to follow collegiate-level sports and confesses that he is a little bit of a techie. He says he even considered leaving the trade to pursue work with computers but ultimately felt that he'd given too much to the trade to give it up now. 
As a person who enjoys Adams' company, I'm glad he made that decision.
Bill Bollinger
He is kind and patient. If you break it, he can fix it.
These are the phrases that come to my mind when I think of Bill Bollinger. 
Bollinger is a machinery mechanic at the UW. He specializes in kitchen equipment, but thankfully that skill transferred over nicely into the rest of the work we do. I've worked with him on a daily basis since he arrived here a few months before the COVID shutdown. Over that period, we have shared a few stories and experiences while rigging, repairing and installing equipment throughout campus. 
I have learned a lot from Bollinger, not only from his past experience, but from his pragmatic approach to problem-solving. I remember the first time I watched him narrow down the root cause of a problematic valve in some kitchen equipment, using an uploaded manual and a voltmeter. I was under the impression that the valve just needed to be replaced, but he was not satisfied. 
As he worked backwards from the root of the problem, he found that the control board was failing to signal the valve. He took the time to fully understand the process. This is simply what makes him an ace when it comes to finding a solution.
"Basically, I've been fixing things my whole life," he said. He started right out of high school fixing or installing commercial refrigeration systems at supermarkets, mini-marts and McDonald's. Bollinger went back to school for a couple years to pursue his interest in electronics and electricity at Griffin College, but ended up working for Sears as an appliance technician in 1989.
"At that point electronics was not what it is these days," he said smiling. 
Bill spent 26 years with Sears before changing hats and working in the kitchen repair sector for Eco-Lab. Five years later he applied for a position at the UW. 
Outside of work Bollinger is very family-oriented. 
"I like to travel. I have a travel trailer, we like to go around, camp and relax," he says. "We" includes his wife, four older kids and two grandkids.
When he is not busy travelling with his family, he does have a hobby: "I have a '69 Datsun roadster that sits in the garage and doesn't get worked on at the moment," he said.
When he does get around to working on his roadster, I know he'll use the same pragmatic approach I get to see in action every day.