Custodians treated to surprise breakfasts
UW grad student serves up smiles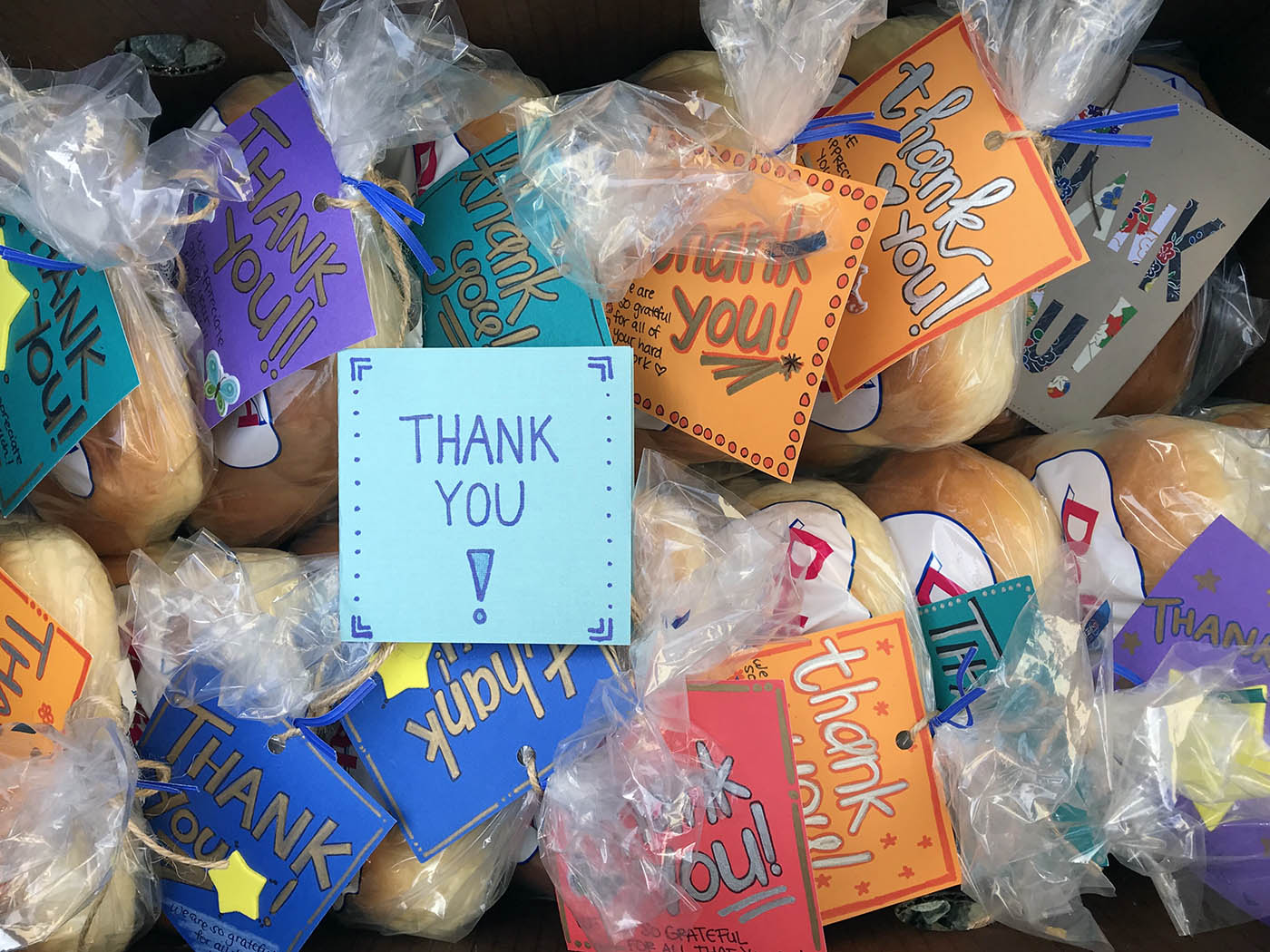 It's 3 a.m. and Evalynn Romano, a UW graduate student, is starting her day. She's busily brewing fresh coffee and packing her car with hand-sewn masks, thank you notes and pan de coco, coconut bread from Delite Bakery, a Filipino bakery on Beacon Hill.
Since March 30, she has served breakfast to hundreds of custodians and by the end of June, all eight work areas on campus will have been treated to these special breakfasts. 
"My coffee and bread idea is just one small gesture," says Romano. "There are tens of thousands of people who use the UW campus and can find their own creative ways to show their appreciation too."
Romano is a graduate student in the Master of Public Health and Master of Social Work programs. She plans to pursue a career as a mental health clinician and public health researcher. She's also one of the lead organizers of Bayanihan Response to COVID-19, a health and wellness campaign of the National Alliance for Filipino Concerns (NAFCON). Romano says that volunteering in her community is very important to her, and is also why she feels so passionate about showing appreciation for UW custodial staff.
Romano has a firsthand understanding of the hard work custodians do. Her late father was a custodian for 25 years and her mother has been a custodian at the UW for 31 years.
"The majority of custodians are immigrants, refugees, and people of color," Romano says. "My family and I are a part of these communities and I do what I can to support, empower, and uplift them. Even if it is just through a small gesture like bread and coffee as a thank you."
"Since the age of two, I grew up around UW custodians who welcomed me like family," Romano says. "I have a deep respect for their work."
The idea came to her when she saw similar acts of kindness shown to healthcare workers, and believes that custodial workers needed to be shown that same appreciation. Romano has gathered thank you notes and hand-sewn masks from friends and UW students and staff members, and raised funds from the community to help pay for the coffee and sweet buns.
"Her kindness during the past few months has brightened everyone's day and has made people feel even more appreciated during these tough times," says Gene Woodard, Director of Building Services, which employs about 250 people in Custodial Services.
Woodard has known Evalynn since she was born and recalls holding her when she was just a few weeks old as well as seeing her at departmental potlucks and parties over the years.
"I am not surprised by her generosity towards Custodial Services," he says. "I am really touched by her."
But Romano is quick to remind us that she's just one person and has received community support inside and out of the UW.
"Between the bread, coffee, and mask, there is something for everyone," she adds.
Amanda Dassoff contributed to this article.