Horticultural kudos for Seattle campus
UW honored by Arbor Day Foundation, receives arboretum status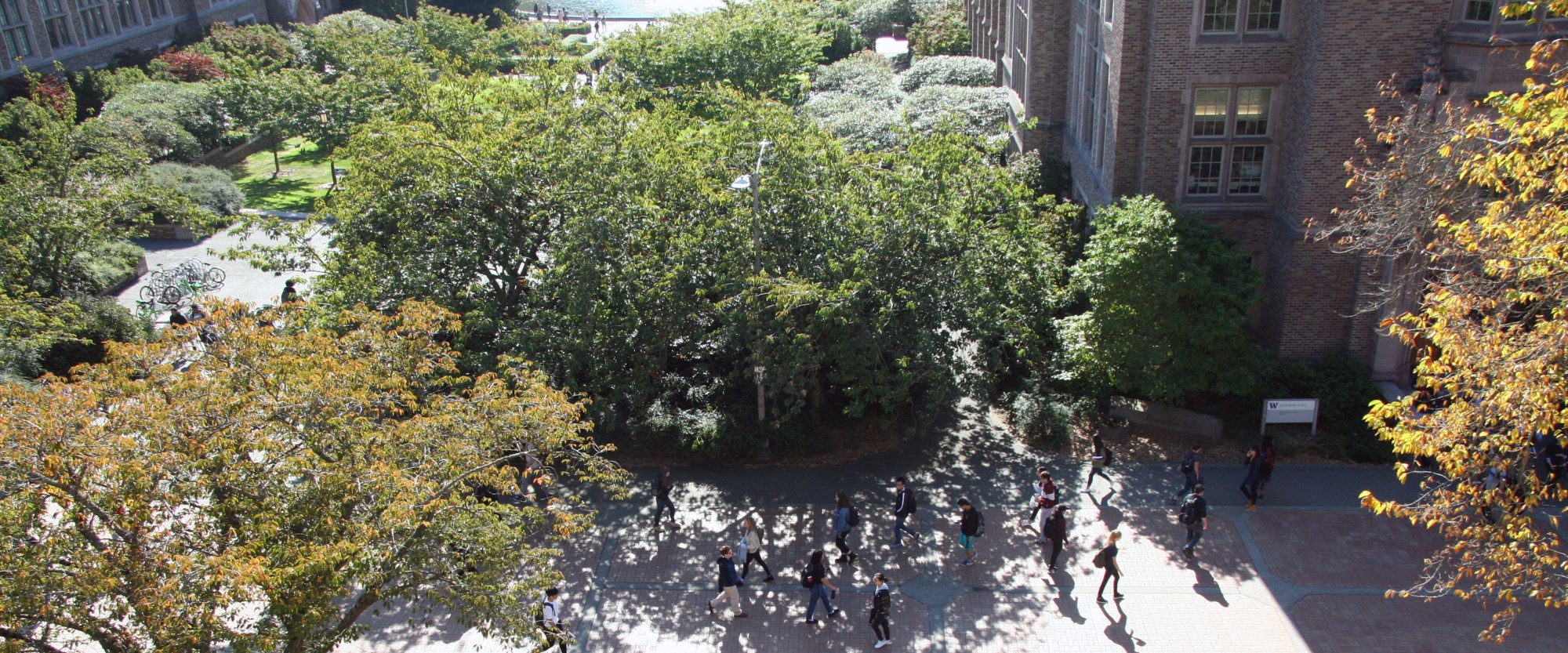 The University of Washington is home to one of the most iconic cherry blossom landscapes in the Pacific Northwest. Each year, thousands of visitors flock to the Quad for a few precious weeks to admire the collection of Yoshino cherries. But there's plenty of other flora that keep our picturesque campus earning recognition from national botanical groups. Namely, for the 10th year running, the Arbor Day Foundation has named the UW a Tree Campus USA member.
Tree Campus USA is a national program that honors colleges and universities for effective campus forest management and for engaging staff and students in conservation goals. The UW has held this distinction since 2009 by maintaining a tree advisory committee, campus tree-care plan, dedicated annual expenditures, Arbor Day observance and student service-learning projects.
The Seattle campus has also just been awarded a Level II Arboretum accreditation by The ArbNet Arboretum Accreditation Program and The Morton Register of Arboreta for achieving specific standards of professional practices deemed important for arboreta and botanic gardens. Level II arboreta have at least 100 species of woody plants, employ paid staff, and have enhanced public education programs and a documented collections policy.
The ArbNet accreditation is an important endorsement to showcase the UW's commitment to the environment and urban forest, says UW arborist Sara Shores. "The University consists of a mosaic of landscape types, each providing important environmental services that as a whole comprise a robust example of the Northwest Ecotones: Conifer forest, deciduous forests, wetlands, steep and shallow slopes, and grasslands."
Campus tree facts
In recognition of these arboreal honors, here are 10 facts about UW campus trees:
1  Over the years, the University has planted over 250 memorial trees on campus to honor students, veterans, professors and faculty.  In addition, individuals are able to purchase a memorial tree that is maintained in perpetuity by UW Grounds Management. All memorial trees are showcased on a Campus Memorials online map.
2  The London plane trees along Memorial Way honor the 58 soldiers from the UW who died in World War I.
3  The tallest tree on campus is a Giant Sequoia, measuring an impressive 128 feet. It's located near the Medicinal Herb Garden across Stephens Way from Anderson Hall. 
4  The largest recorded diameter of a campus tree measures at more than 7 feet. This expansive California Redwood is located just to the west of the Waterfront Activities Center.
5  The most valuable tree is a Northern Red Oak that stands at just over 100 feet and is valued at $95,500. This expansive (and expensive) Red Oak can be found just southwest of Denny Hill.
6  The Nordic-Baltic Centennial Oak Grove consists of eight oak trees, symbolizing the eight countries studied in the Scandinavian Department. They were planted near one of the oldest footpaths on campus between Parrington Hall and William H. Gates Hall.
7  Learn more about the trees on campus with the Brockman Memorial Tree Tour. You can take the tour online or print out a map and check out the trees in person.
8  Want to find more rare trees on campus? Check out the book, "Trees of Seattle," by Arthur Lee Jacobsen, a lifelong Seattle resident who has a penchant for plants, pruning and trees.
9  Early in the UW's history, Professor Edmond Meany was a leader in ensuring the diversity of the UW's trees. He planted hundreds of trees and raised seedlings at his house near the present-day UW tower.
10  Not all trees get to grow old, but that doesn't mean their useful life is over. The UW's salvaged wood program turns removed trees into lumber for projects on campus such as benches and tables. And, stay tuned for the opportunity to own your own piece of UW salvage wood via our new standard and custom order wood website.