Picture perfect perennials
Campus cherry blossoms are returning like clockwork

"What a strange thing! to be alive beneath cherry blossoms." -Kobayashi Issa

 
Are the cherry trees blooming yet in the Quad?
While they're not completely out, by this weekend, and the end of Spring Break, they surely will be. But even at this stage, the Quad has attracted many visitors and admirers to capture their effortless splendor. 
And Somei-yoshino, the main species located there, seems to know when most students are on holiday, because that's when they began putting on a spectacular show of blush-colored blossoms, this year, March 25 to be exact.
People who don't, or can't make it to the Seattle campus often, can monitor the UW's Quad Cherry Blossom live stream to keep track of what's currently blooming. Campus arborist Sara Shores had predicted the Quad will be in prime viewing during the last week of this month, and she seems to be right on target.
Other varieties, including Higan, Hisakura, Kwanzan, Mt. Fuji, Shirofugen and Yoshino, are also blooming.
You can see the location of the trees on or near the Quad in the map below. Or go to this bigger map showing the location of cherry trees across the Seattle campus.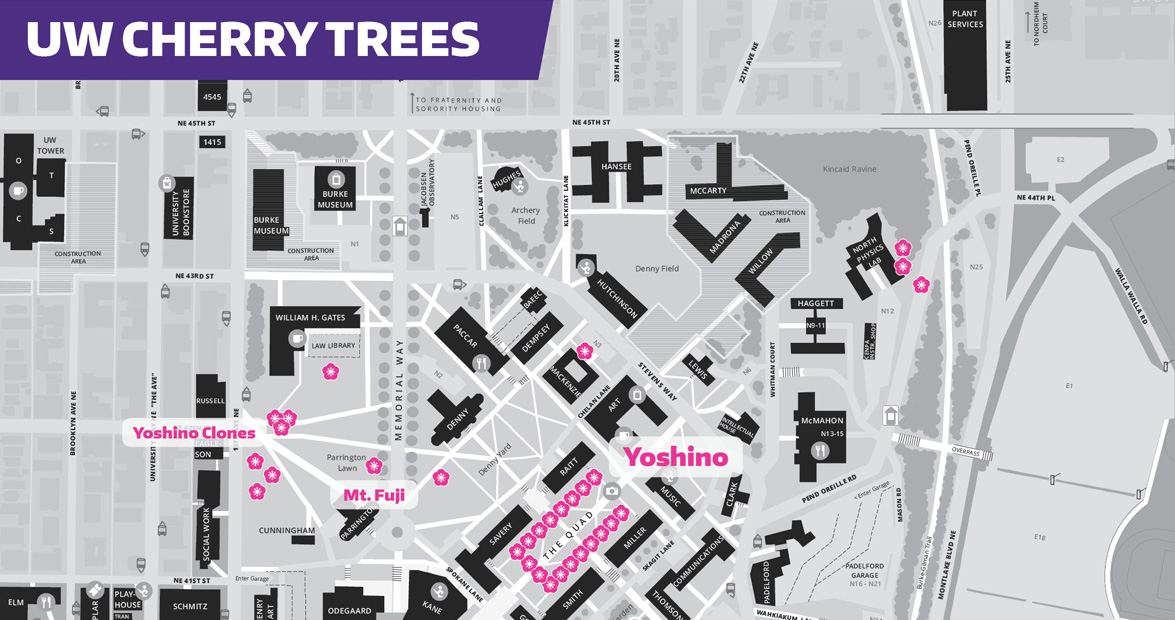 Tips for happy viewing
Cherry blossom season is second only to commencement in bringing the largest surge of visitors to campus, so be prepared for crowds, particularly the last weekend in March. 
The Quad is open to the public and is a short walk from many bus routes. Visitor parking is also available. Please be aware that parking permits are required for all visitors on weekdays from 6 a.m. to 9 p.m., and Saturdays from 7 a.m. to noon. Campus visitors can ask at any gatehouse for assistance and get a map to the cherry trees, as well as information about available lots. Visitors may also find the main master campus map helpful.
For another way to take in the blooms, the inaugural Cherry Blossom 5K Run/Walk takes place March 31. It starts at the Center for Urban Horticulture and winds down in the Quad. See the entire course here.
For the latest cherry tree updates, visit UW News, follow @uwcherryblossom on Twitter or visit the UW's Facebook page. For information about visiting campus to see the blossoms, contact the UW Visitors Center at uwvic@uw.edu or 206-543-9198.
And as always, a reminder not to climb the trees or take flowers. The trees appreciate you admiring them without disturbing their natural environment.