A learning experience
BSD's Stepping Stones for Success Program welcomes University leaders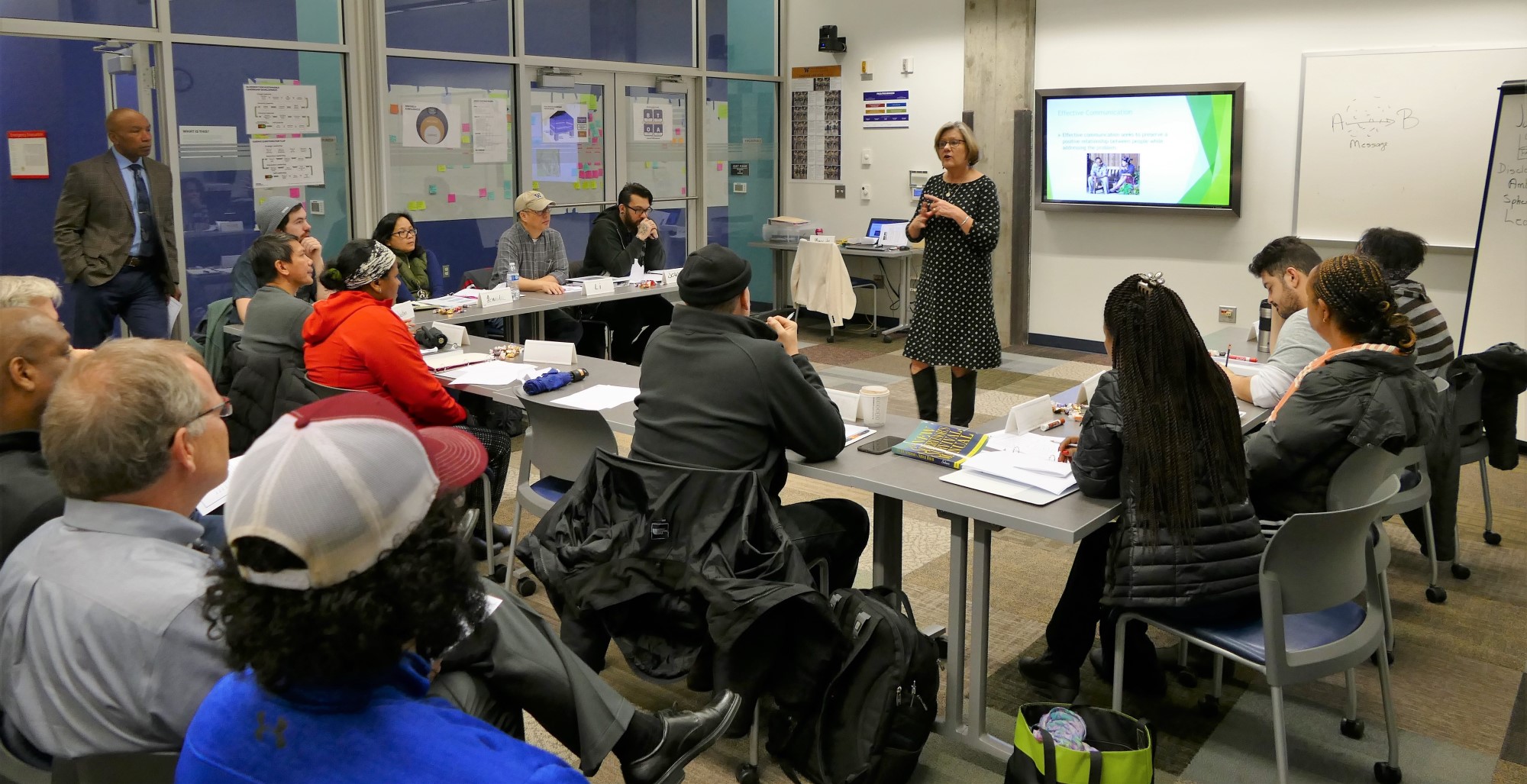 In collaboration with the Facilities Services Training Center, Building Service Department officially began its fourth year of The Stepping Stones for Success Program (SSSP) in January 2018. The program's nine-month-long format is designed to develop leaders and provide valuable skills for job advancement opportunities.
On January 21, 2018, the newest cohort and BSD leadership offered a front row introduction to the class' training structure for guests including: FS Interim Associate Vice President John Chapman, Associate Vice President Capital Planning & Development Mike McCormick, and Executive Vice President for Finance and Administration Jeff Scott.
"Stepping Stones is a unique offering—hearing directly from individual students and graduates was impressive," said Scott.
FS Integrated Operations & Engagement Assistant Director and SSSP instructor MaryJo Blahna shared an overview of the three phases of the program during the visit, which consists of classroom training, real world scenarios in the field and one-on-one résumé writing and mock interview.
Former Stepping Stones graduates were also in attendance to discuss how the program has personally and professionally shaped them. "Stepping stones is not only a class to teach people how to become better leaders in the workplace, it also helps teach individuals how to become better people in general," said Interim Custodial Manager and 2016 SSSP graduate Cassk Thomas. "Like anything that the University has to offer, you get out of it what you put into it," said Thomas.

"Stepping Stones is great in that it takes skills you may already have—or have not yet discovered—and helps strengthen them," said UW Recycling Truck Lead and 2017 SSSP graduate David Speed. "The program points students in the direction of being an effective leader, which is an ongoing process," said Speed.
"MaryJo is such an accomplished and fun instructor," said Custodian and 2017 SSSP graduate Reynard Arn Cruz. "I learned so much from her," said Cruz.
"Instructing SSSP is the most impactful work I have ever done," said Blahna. "Here is a group of employees that want to learn and arrive prepared every week. I feel honored that I am allowed to interact and learn from them every week—it's the best part of my job!"
How it began
"I wanted to create a training and development program specifically for custodial and recycling staff for many years," said BSD Director Gene Woodard. "My leadership team and I knew we had hidden gems that deserved a chance to grow. After four years, it's very exciting to witness the continued success of both the graduates and program benefits," said Woodard.
"The program not only builds confidence, it also broadens students' horizons because they graduate knowing they have support from every level of BSD," said BSD Training Manager Mike Nguyen.
By the numbers
Since 2014, SSSP results include:
Graduates earn the equivalent of six months of supervisory experience upon program completion.
BSD promotions include five staff (14%) to supervisory positions.
A total of 20 staff (57%) have performed and/or currently performing higher level duties.
All graduates are solid contributors to their work teams.
Based on BSD's success, Facilities Maintenance & Construction (FMC) and Campus Engineering & Operations (CEO) started their own Stepping Stones programs.